Books24x7 titles are hosted via Skillport, and can be accessed two ways. For both options—please ensure you are first logged into the ACM Learning Center, using your ACM member credentials—via the upper right corner of the Learning Center:
Browse among other published eBooks via the Ebook Catalog in the ACM Learning Center and click through directly from the title detail page to the book on Skillport...
Or…browse by topic or search among other Skillsoft Learning resources via Skillport—by clicking on the Skillsoft Learning link in the upper right corner of the Learning Center homepage.
For a general overview of what Skillport 8 has to offer learners, and to get comfortable with the new user interface, go to http://documentation.skillsoft.com/en_us/skillport/8_0/vid/Overview/multiscreen.html.
The following video walks learners through the search and navigation experience in Skillport 8: http://documentation.skillsoft.com/en_us/skillport/8_0/vid/SP8_NU_Search_for_Content.mp4.
This quick video shows you how to add asset series to your Learning Plan (which makes it easier to view these assets, such as online course series, in the order in which they are presented): http://documentation.skillsoft.com/en_us/skillport/8_0/vid/SP8_NU_AddASeriesToASet.mp4.
Visit http://documentation.skillsoft.com/en_us/skillport/8_0/ah/index.htm#46213.htm for a tour of the Learning Transcript Page (including a video tutorial), including viewing, sorting, and filtering your transcript.
For instructions on printing your transcript, visit http://documentation.skillsoft.com/en_us/skillport/8_0/ah/index.htm#46381.htm.
Printing Completion Certificates
To print a certificate of completion (for courses):
Click Quick Links in the upper-left corner of any Skillport page.
The Quick Links menu displays.
Click Learner Transcript. By default, the Learning Transcript opens the Core Data transcript, and the assets are listed in order by last-accessed date.
Locate the asset for which you want to print a certificate of completion.
In the course's Actions column, click View Certificate.
The certificate of completion displays.
Click Print.
You can watch a quick video tutorial on printing certificates of completion: http://documentation.skillsoft.com/en_us/skillport/8_0/vid/SP8_NU_PrintingACertificateOfCompletion.mp4.
How Do I Download and Play a Course Offline?
To download a course for use offline you must first install the Skillsoft Course Manager (SCM). Please follow the following instructions to install the SCM and download courses from Skillport. (Please be aware that utilizing the SCM for offline course play does require the use of Java).
IMPORTANT: Previously (in Skillport 7), SCM synchronized offline course play activity data, that was locally stored on your computer, when you logged in to Skillport. This synchronization no longer occurs during Skillport log in; as a result, the Java pop-up for SCM no longer displays when you log in.
Now, in order to synchronize this activity back to Skillport, you must use one of the following methods:
Start SCM when your desktop has an internet connection and can get to Skillport. In this case, SCM automatically connects to Skillport and synchronizes your progress data.
Connect to Skillport, navigate to Quick Links>Learner Transcript, and click the Sync Offline Progress link. This starts SCM, which then connects to Skillport and synchronizes your progress data. For more information, see Synchronize Offline Course Results in the SCM help.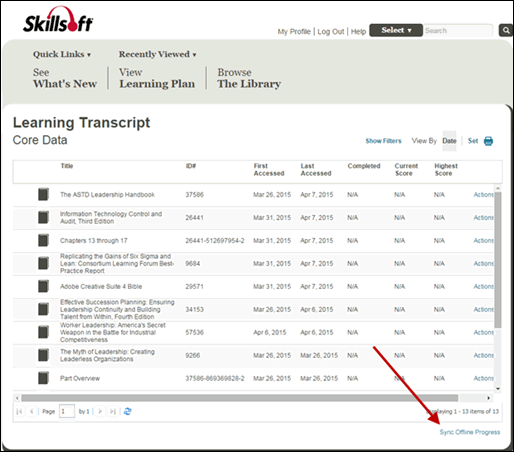 A mobile version of Skillport is accessible via supported devices. The majority of Skillsoft courseware is accessible via supported tablet devices, and other content assets (Books, Videos, Analyst white papers) are accessible via supported tablet and mobile devices. Please refer to mobile system requirements for supported devices.
Skillport 8 offers mobile access to books and short videos through a mobile-optimized website as well as dedicated apps for Android (running Android 4.0.3) and iPhone (running iOS 8 or higher) devices. (A Windows Phone App is not available and Skillsoft has no current plans to develop one.)
You can access Skillport 8 using the Skillsoft mobile app as follows:
Download and install the Skillsoft Learning App from Apple Store or Google Play.
Log into Skillsoft Learning through the ACM Learning Center or myACM.
Your browser will open to the acm.skillport.com page. Select Open in the app. (If you skipped step 1, you'll be prompted to download the app at this stage.
Or, to access Skillsoft's mobile-optimized website, simply log into Skillsoft Learning in the ACM Learning Center or via myACM. On the screen that opens in your browser, choose and Continue to the mobile site.
Where are my old bookmarks from Skillport 7?
All bookmarks, notes, and course progress for content that remained in our new Skillsoft Learning collections has carried over carried over to Skillport.
Books previously placed on the "bookshelf" via the old Skillport 7/Books24x7 site, are now accessible under View Learning Plan>Personal Learning tab. See screenshot:
Notes and bookmarks previously made via the old site are accessible under via the Summary page of each respective book title. See screenshot:
As of September 9, 2015 the ACM Skillsoft Library is accessible completely Java-free provided you are accessing via HTML5 compatible browser, and you are not utilizing the option to download courses for play offline (via the Skillsoft Course Manager module).