ACM TechTalks
ACM members and non-members alike are welcome to attend our popular series of free TechTalks by expert industry professionals, distinguished ACM award laureates, and visionary researchers from industry and academia. Focused on keeping our global audience of busy practitioners at the forefront of technical trends, professional development, and emerging technologies, the TechTalks are also popular with students and educators. Recent talks have covered topics in Artificial Intelligence and Machine Learning, Big Data and Data Science, Blockchain, Computer Vision, Deep Learning, JavaScript, Microservices, Python, Quantum Computing, and more. Registration is free and the TechTalks can be attended both live and on-demand, on desktop and mobile devices. Check this page frequently for upcoming events as well as our on-demand archive. To subscribe to our TechTalk announcements, email learning@acm.org.
ACM TechTalks
View Our Recent TechTalk
LLMs: A New Way to Teach Programming with Daniel Zingaro and Leo Porter
As instructors and researchers, we've all seen how challenging it can be for students to learn to program. Students need to iteratively learn many skills, such as using correct syntax, tracing code, using common programming patterns, writing code, and testing/debugging the code they write. Struggling with any one of these tasks may mean that the student fails to solve the problem they wanted to solve.
In this talk, we'll explore how Large Language Models (LLMs) like GitHub Copilot and ChatGPT can shift the skills needed to succeed at programming and enable more students to become successful programmers. Remarkably, this shift –- away from syntax and toward problem decomposition and testing –- may also be exactly what many instructors were hoping to be able to focus on in CS1 all along. You will learn:

-Why so many students struggle in CS1
-How LLMs change the skills needed to program, and how we might teach these skills
-How LLMs benefit students and instructors
-Concerns and questions around using LLMs
ACM award winners, leading researchers, industry veterans, thought leaders, and innovators address today and tomorrow's hottest topics and issues in computing for busy practitioners, as well as educators, students, and researchers. Check out our archive of these ACM TechTalks, free for members and non-members alike.
Talks from some of the leading visionaries and bleeding-edge researchers in AI/ML: Fei-Fei Li on visual intelligence in computers and ImageNet; Eric Horvitz on AI solutions in the open world; and Tom Mitchell on using ML to study how the brain creates and represents language.
ACM TechTalks
View the recent ACM TechTalk, "Reskilling to Build Diverse Tech Teams." Panelists included ACM Professional Development Committee (PDC) member Sue Black, Professor of Computer Science and Technology Evangelist at Durham University (who also served as panel moderator); ACM Education Board Co-Chair and ACM Distinguished Educator Elizabeth Hawthorne, Graduate Program Director of Cybersecurity at Rider University; ACM Practitioner Board Vice-Chair Marlene Mhangami, Software Engineer and Developer Advocate at Voltron Data; ACM PDC member Tan Moorthy, advisory board member and strategy consultant in the areas of workforce transformation and sustainable development; and Brad Voeller, Founder of New Apprenticeship. Continue the discussion on ACM's Discourse Page.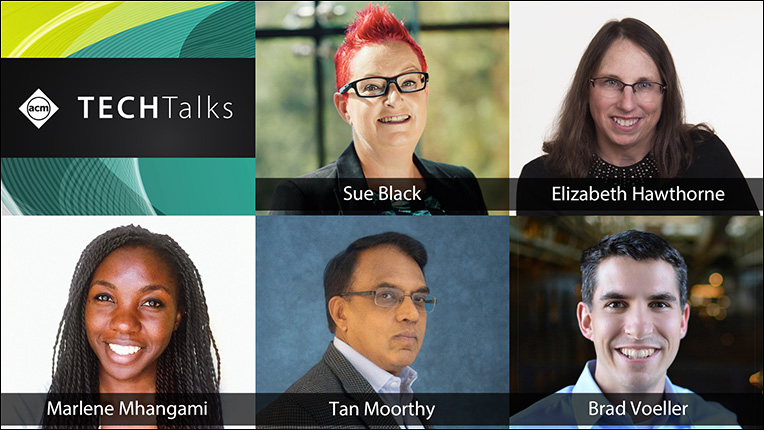 ACM TechTalks
View for recent ACM TechTalk, "LLMs: A New Way to Teach Programming" presented by Daniel Zingaro, Associate Teaching Professor at the University of Toronto, and Leo Porter, Associate Professor of Computer Science and Engineering at UC San Diego. Michelle Craig, Professor of Computer Science at the University of Toronto and member of the ACM Education Board, moderated the questions and answers session following the talk. Continue the discussion on ACM's Discourse Page.